Katherine Davis – Chicago INNO – March 22, 2021
Electric shuttles have come to Chicago's streets, and they're giving rides to locals for free.
GEST Carts (pronounced "guest" and stands for Green Easy Safe Transportation) is a free electric and open-air shuttle service that's providing rides in a 2-mile area on the Near West Side. The shuttles are primarily connecting people from downtown to the United Center Thursday through Sunday from 5-11 p.m. A single shuttle can seat five passengers.
The company was originally founded in Cincinnati by Patrick and Lauren Dye, but has since expanded to other cities in a franchise model. Tiffany Shepard and her co-founders Harold Shephard and Marissa Wright brought it to Chicago last year and now operate a fleet of four shuttles.
GEST is able to provide rides for free through advertising revenue, Shepard said. The company has partnered with businesses like ComEd and whiskey company Uncle Nearest, which place ads on the shuttles.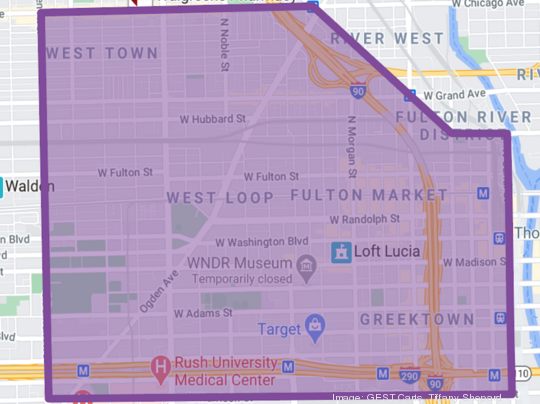 Map of GEST Carts Near West Side route
"We're a mobile billboard," said Shepard, who is an attorney by training and currently associate general counsel at KraftHeinz. "We're excited to not only offer a zero-emission transportation solution but also make it absolutely free for riders."
GEST shuttles, manufactured by Polaris, will drive on a single charge for 6-8 hours, Shepard said. When not in use, the shuttles are stored in a garage in Bronzeville.
Eventually, the idea is to provide free transportation to elderly people and residents of food-insecure neighborhoods, as well as the nightlife crowd. The service will eventually be available on-demand through a mobile app and expand to other neighborhoods like River North and Wrigleyville, Shepard said. She said the GEST model could also be particularly useful on local college campuses, like Northwestern University and the University of Chicago.
"Our business model and our personal goal is to always keep it free for riders," Shepard said.
Other local electric vehicle companies include Innova EV, a tech company in Burr Ridge making electric and semi-autonomous vehicles. In 2018, Innova EV was testing its two-seater vehicles in Itasca, providing last-mile transportation for employees and residents of the Hamilton Lakes Business Park to and from the local train station.
Innova EV vehicles have also been tested in Chicago's Bronzeville neighborhood, providing a ride-sharing program that serves residents of TRC Senior Village.
https://www.bizjournals.com/chicago/inno/stories/profiles/2021/03/22/a-new-startup-is-bringing-free-rides-on-electric.html